A few months after losing their first grey Blazer last year, Cher and Chip Imrie started Blazer's Guardian Angels -- a special program whereby donors cover all of the medical expenses required to get an Injured Reserve GALT grey fully healthy and available for adoption. They decided that Blazer would be the "guardian angel" for Victoria, and they hoped that he would inspire others to sponsor additional GALT greys.

Angel Blazer
(GALT #0757)


Chip & Cher Imrie
with Victoria
Jim and Donna Johnson were deeply touched when they heard about the Blazer's Guardian Angels program. All three of their GALT greys traveled to the Rainbow Bridge in 2014 – Jesse and Bookerin January, just a week apart, and Alvarae in December.
"We have wonderful memories of our association with GALT and the greyhounds who became part of our life," wrote Donna and Jim. They adopted Alvarae in 2004, and answered GALT's pleas for fosters the following year. After fostering and adopting out several other GALT greys, they "foster failed" in 2006 with Jesse, a gentle boy who was a perfect match for his alpha sister. In 2011, Jesse's litter mate Booker was returned to GALT at age 11 – so Jim and Donna discovered the joy of adopting a Super Senior. After hearing about the Blazer's Guardian Angel program, they decided to sponsor three greys – George, Jena, and Jeff, in memory of their three Rainbow Bridge angels. They wrote that doing so "is our way of continuing the memory of our happy hounds and honoring the work of many to continue the mission No Grey Turned Away."

Angel Alvarae, aka Ling Ling
GALT #0365


Angel Jessee
GALT #0054


Angel Booker
GALT #1115


George with adopter
Katy Cassidy


Jim & Donna Johnson
with Jena


Jeff

Sandra Lyman was also inspired to join the Blazer's Guardian Angels program recently. She has sponsored a couple of her former fosters, Dosey and Audrey, in memory of her beloved Adrienne and her Basset puppy Abby. All of the GALT greys in this program get a special GALT tag with the name and Rainbow Bridge date of his or her Blazer's Angel on the back.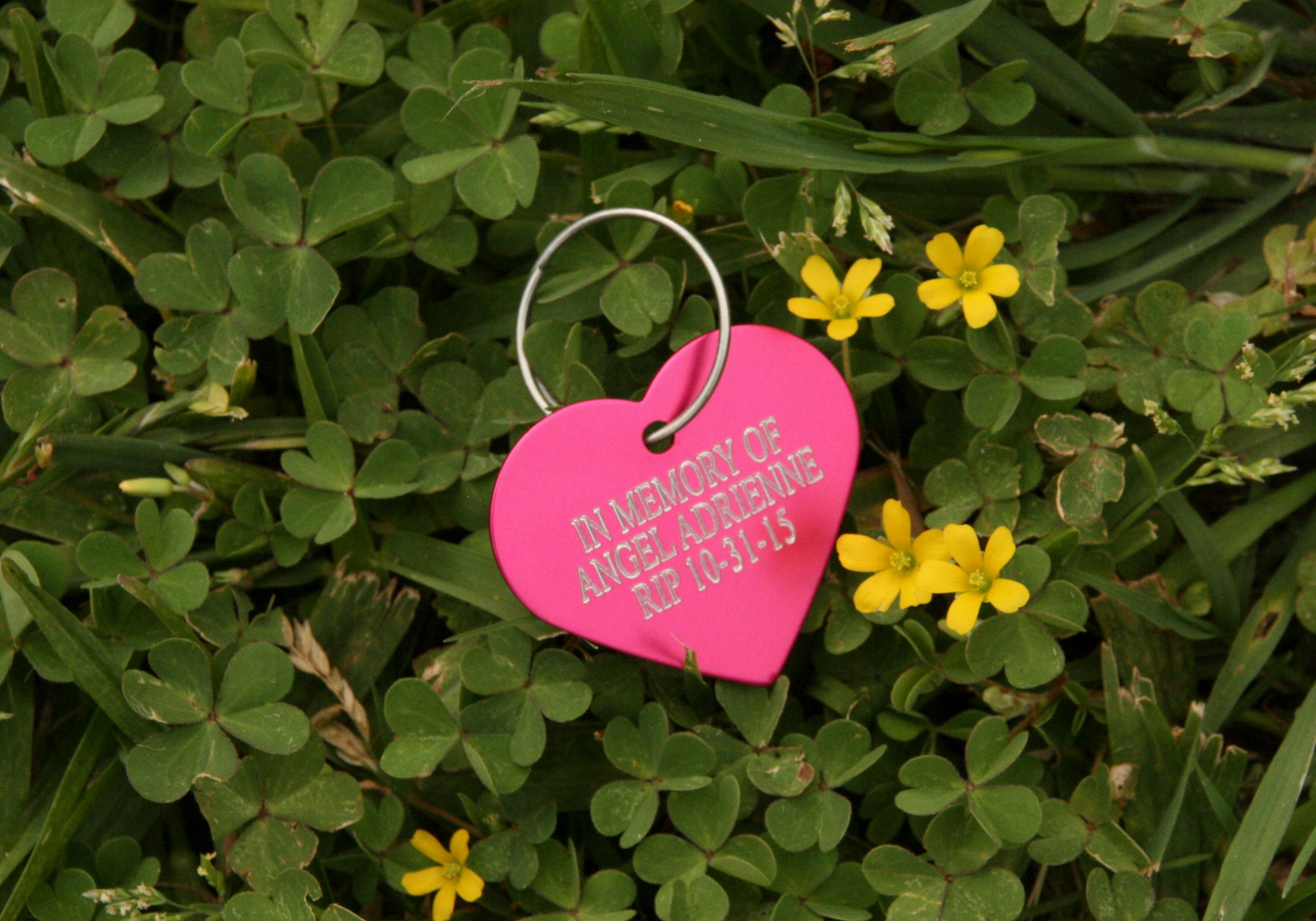 Angel Adrienne
GALT #2145


Angel Abby



Dosey



Audrey

Anna Ledoux has recently stepped up to sponsor Lyza in the Blazer's Guardian Angels program, in memory of her sweet Zacchaeus -- fka GALT's Lucky, #1913
Zac is pictured below, along with the special Guardian Angel tag now sported by Lyza:
Anna adopted Zacchaeus (aka Zac) on May 5, 2012 -- just after his first birthday. Zac had broken his leg on the greyhound farm and the repair had failed, which ultimately resulted in an amputation of the leg. Anna, a veterinarian with an affinity for special needs animals, was happy to give Zac a chance at a better life. It was love at first sight, and Zac quickly stole Anna's heart. However, after just a year in her home, Zac developed some serious medical issues, resulting in two surgeries to remove tumors. When the symptoms returned after the second surgery, Anna knew it was time to say goodbye. "At 23 months old, I lost the dog I still call the love of my life," she says. "He was the easiest dog to have and the hardest dog to say goodbye to." Anna is proud to sponsor Lyza in memory of her precious angel Zacchaeus, who traveled to the Rainbow Bridge at such a tender age.
After previously sponsoring three greys in the Blazer's Angels program in memory of their three Rainbow Bridge Angels (as noted above), Jim and Donna Johnson decided to sponsor two more hounds, in memory of GALT's Cactus and Bobbi. Cactus and Bobbi were with GALT for very short periods, as they arrived in our care with very serious medical issues. They were loved briefly, but intensely, by the entire GALT family. We are truly grateful to Donna and Jim for honoring Cactus and Bobbi by paying for the medical expenses for Davis and Zelda.
| | | |
| --- | --- | --- |
| Angel Cactus | | Davis |
| Angel Bobbi | | Zelda |
Cher and Chip Imrie, who initiated the Blazer's Angels Program (see beginning of this article), also decided to sponsor two more greys – Zibian and Pansy -- in memory of their Bridge Angel Silvia. Sweet Silvia was one senior gal who could rock a hat! Deepest thanks to Cher and Chip for continuing to contribute to Blazer's legacy.
| | |
| --- | --- |
| Angel Silvia | |
| Zibian | Pansy |
GALT deeply appreciates these special donors who have covered the extensive medical expenses of GALT greys in need. If you would like to join Blazer's Guardian Angels and honor the memory of a Rainbow Bridge grey in this special program, please contact Susie McQuade, smcquade@galtx.org or Barbara Christian bchristian@galtx.org. We are sincerely thankful for all of our friends and supporters who make donations of any size. We literally could not do our work without you! To make a regular donation, please click here to donate.