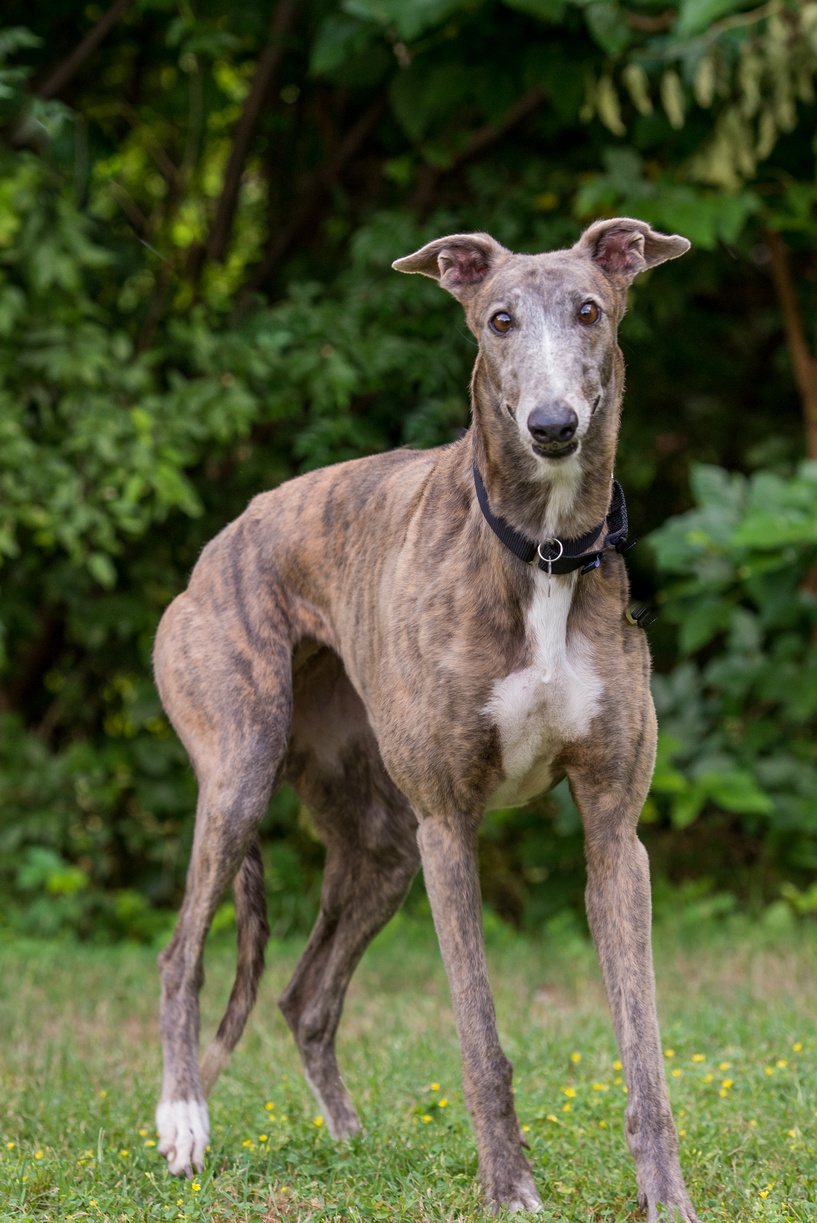 GALT gives preference to applications within in our operational areas of Texas, Oklahoma, Louisiana, and New Mexico. We welcome applications outside these areas, however, the out of area applicant must have previous sighthound experience. All adoptions must be completed in person in Dallas, TX or Albuquerque, NM.
At this time, GALT has an extremely limited number of cat tolerant hounds available for adoption. Applicants with cats can expect to wait up to 6 months to be matched with a suitable hound. If we are unable to match an applicant with a suitable hound after 6 months, their applications will be canceled.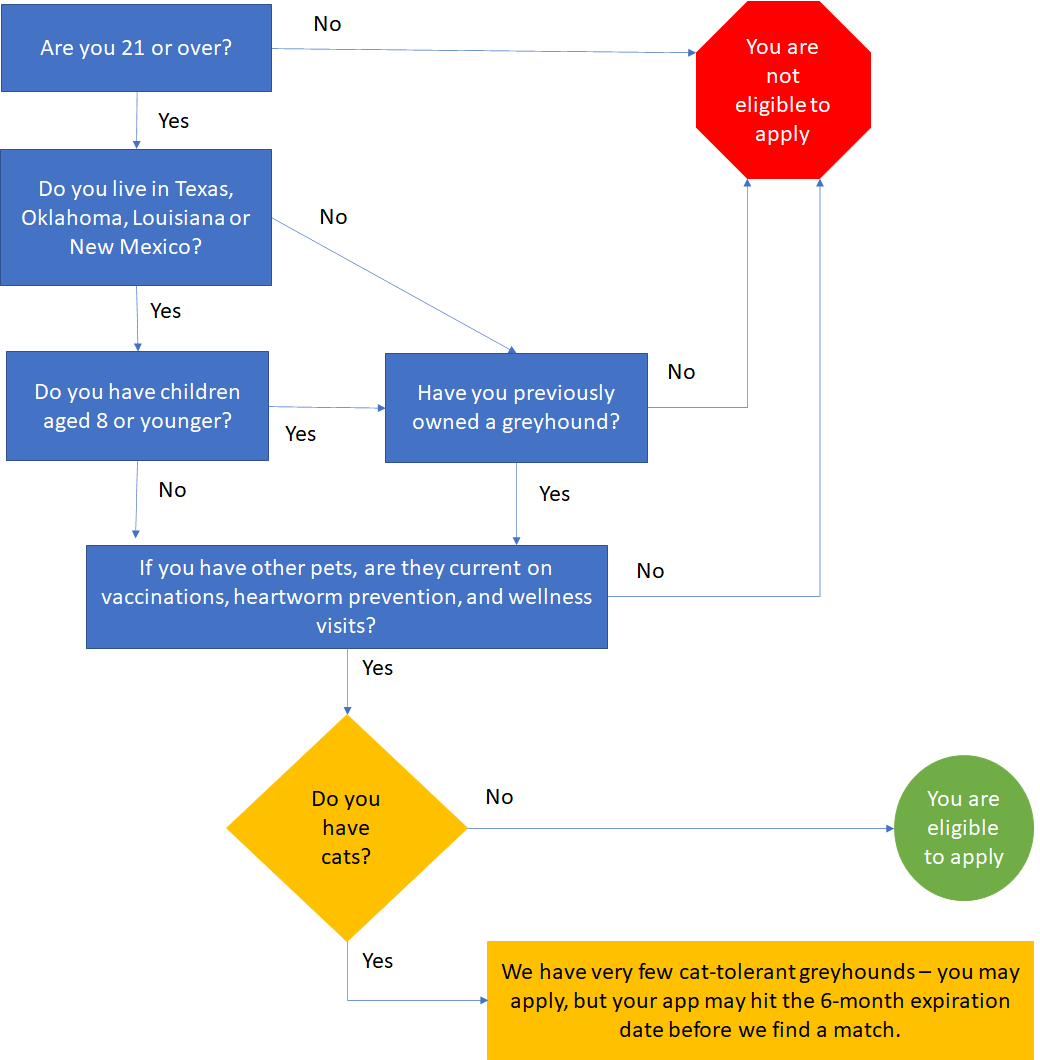 Thank you for your interest in adopting a greyhound! Greyhounds make wonderful pets and will give you many years of love and devotion. Adopting a greyhound is a serious responsibility requiring a long-term commitment. GALT's adoption application has been designed to evaluate potential adopters to ensure that each person who adopts a greyhound is not only aware of that responsibility, but also to address the suitability and permanence of each greyhound placed in a home.
Application
Please read the application thoroughly and consider your responses carefully – this is an important step towards adoption.
Due to increased medical and shelter/food costs for our GALT hounds, it is necessary to increase Adoption Fees, which are subject to change without notice.
Effective May 1, 2021, GALT Adoption Fees:
Ages 6 months to 7 years old $550
8 years and up $450
Irish and Australian greyhounds 8 and over: $650
Irish and Australian greyhounds 7 and younger: $750
GALT Veterinarian Protocol for Adoption & Foster Applicants
This document defines GALT's requirements for veterinarian care for an applicant's pet(s), both foster and adoption. In addition to the items listed below, we will also inquire as to the historical care of the pets. In the event that the practice is no longer open, dated records on practice letterhead will be accepted in lieu of the vet check.
All cats and dogs must be current on core vaccinations (Rabies, DHPP) and wellness exam. Cats that are kept solely indoors must be current on Rabies vaccinations as it is required by law. If the pet is exempt from core vaccinations, a letter must be submitted signed by a veterinarian explaining why the animal is not current. Annual heartworm test is required with proof of current monthly heartworm preventative.
If the pet or pets is/are not current, they must not be greater than 6 months overdue. If greater than six months overdue, GALT has the right to terminate its consideration for adoption or foster. If less than 6 months overdue, the applicant has 7 days to update his/her pets' vaccinations and physical exams.
GALT recommends, in consultation with your veterinarian, current Bordatella, Lepto and Canine Flu vaccinations as well as monthly flea and tick preventatives due to the high exposure to diseases.
If pets are recently deceased (within the past quarter), we will conduct the vet check to ensure that they were kept current before they passed away and were well cared for in life.
Adoption applications will not be considered unless they are complete and the $75.00 adoption application deposit has been paid. Out of town adopters will need to travel to Dallas, TX or Albuquerque, NM to finalize paperwork and adopt their chosen greyhound. Applicants must be 21 or over and financially able to support the needs of the greyhound. GALT does not adopt to families with children the age of eight and under unless they are previous greyhound owners or currently have a greyhound.
You can pay the deposit online by going to the Adoption Application Deposit item in the GreytStore. This will give you a Confirmation Number that you will need to include on your adoption application, or you can mail an application to GALT with a check or money order for $75. $25 of the deposit is non-refundable, and all of it applies to the adoption fee. The refundable $50 portion of the adoption deposit is payable to the applicant by check as requested by applicant.
Online applications can be processed more quickly, please use the online application if possible. If you need to use the printable application, please mail it with your deposit to:
Greyhound Adoption League of Texas, Inc.
3400 Carlisle St #430
Dallas, TX 75204-1265
Greyhounds on Injured Reserve are not available for applications or appointments until they are recovered and made available for adoption. GALT's non-refundable adoption fee is $550 for all greyhounds under 8 years, and $450 for greyhounds age 8 and up. The remainder of the adoption fee is due when the greyhound is adopted. Your adoption fee allows GALT to help the next greyhound! GALT's average cost per greyhound is over $750.00 – read more in the Adoption FAQ about what we do for our dogs. Not all adoption groups offer the high quality medical procedures that GALT does. Be informed before your adoption.
GALT is charging an adoption fee of $750 for Irish and Australian greyhounds 7 years and younger and $650 for those 8 and over.
The Irish greyhounds arrive to us spayed or neutered with current rabies vaccinations. The transportation cost averages $1,620 per dog, and GALT spends another approximately $400 for CBC blood work with heartworm test, Protatek testing, dental and vaccinations required for this environment.
**All approved applications are good for six months from the approval date. At the end of that time frame a new application will need to be submitted.
If you are looking to adopt a greyhound who will be an only dog or one who can live with cats, please be advised that we have a waiting list of applications for these conditions and it can take quite a bit longer to find and match you with a suitable greyhound.
GALT greyhounds come with their medical history, implanted microchip, a greyhound martingale collar, a leash, a muzzle, a belly band (for boys), a dental care start-up kit, and additional informational material.
Is a Greyhound Right For You?
Are you ready to adopt a dog?
Click here to read a short article about "Six Signs It's Not The Right Time."
Have you thought about:
How long your dog would be home alone?
Providing regular and emergency health care?
How much food they'll require?
Where you'll leave them when you go out of town?
What other pets or family members they'll need to get along with?
What age dog will fit best with your lifestyle?
What activities do you want to do with your dog?
What kind of dog personality will make the best match?
Is a greyhound the right dog for you?
See below and check out the Greyhound FAQ for more detailed information.
Greyhounds weigh 55 to 85 pounds and stand between 24 to 30 inches at the shoulder
Greyhounds have short coats
Greyhounds come in almost any color
Greyhounds do not need a lot of exercise
Greyhounds are not very vocal
Greyhounds are laid-back and do not make good watchdogs
Greyhounds must be indoor pets
Recommended Reading
Greyhound Specific Books and Guides
General Dog Books