Skinny Dogs Go on a Cold Hike
by Emily Danskin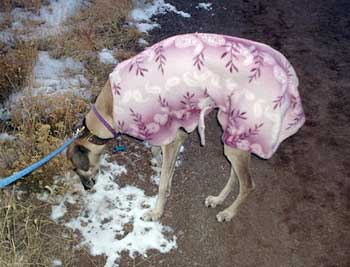 (Emily is a GALT member who now resides in Sedona, AZ and is mom to GALT's Barbie.)
Last weekend, January 6 and 7, 2007, I subjected three of my poor, pitiful dogs to the chills of a mountain hike. We drove up to Flagstaff (about 8000 ft where we went) and hiked around beautiful Buffalo Park. It's a huge park situated on a mesa in between several peaks. It was cold and windy, but we all had coats on. The dogs loved getting out and were fine as long as we kept moving... me too <g>
I kept Sheik (Sloughi) on his leash since his recall is not that reliable at this point. I had Barbie (Greyhound) and Kiara (Ridgeback) on a leash with a coupler. After awhile I took the leash off and left them coupled together. Ki's recall is excellent, and naughty Barbie's is not always that good. So whenever the two girls got too far out in front, I just told Ki to Wait or Come, and 55-pound Barbie had no choice but to do whatever 78-pound Kiara wanted her to do! The first time or two, Barbie dug her feet in like a little mule, but after that, she gave in and just went along with Kiara.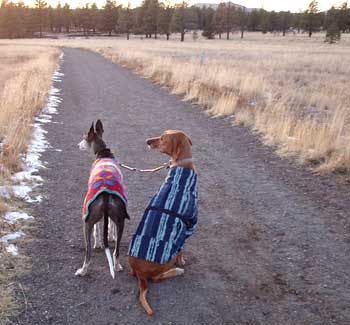 I have a shot or two of the two of them tethered together...Barbie always in front, ready to go at the drop of a hat, and Kiara patiently standing or (when she got tired of B's dancing) sitting, waiting for Sheik and me. One picture shows Barbie doing her best to get Kiara to try and play. B leaped, scampered, did everything she could, and Kiara just stared at her like she was some insane wild horse that needed to be securely held. <G> (Kiara has fun, but she took that 'buddy' job of hers seriously!) I also have one of Sheik all bundled up, sniffing the ever-aromatic coyote poop. He looooooves to take in all the scents...he is a real bundling of both sight- and scent-hound.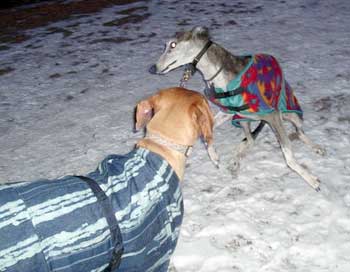 We were standing on a bit of remaining snow and I noticed Sheik standing on three legs, looking a lot like one of those pink flamingo lawn statues in his pink and purple coat... holding one back leg waaay up under his coat. I thought he had something caught in his foot and checked/cleaned it. He put it back down and held the other one up. I did the same thing. He held a THIRD, then FOURTH foot up...then started all over again! He was COLD and just wanted each foot tucked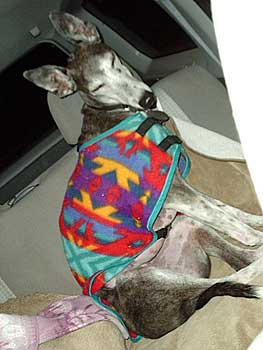 up under his coat to warm up!! Silly, but smart boy. So we started on back at a trot and he was fine. When we got back to the car, everyone was tired but happy. (Picture of Barbie still trying not to miss anything...ears up...eyes closed...)
Back down at Sedona's warmer altitude (4500 ft), they all enjoyed a bully stick. Sheik likes to take his outside and eat them on the dog bed on the porch...but not in the usual way, as you can see. He puts the stick and his front feet on the bed, and leaves his rear on the porch! Then he gets into that Zen-like zone and just enjoys it <G> He is the best boy. Still a bit shy, but everyone loves him.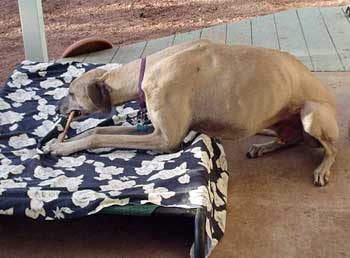 When I take him with Barbie to the Greyhound Gathering in Solvang next month, he may faint from all the dogs and people, but I think it will be good for him. Everyone will be pretty dog savvy and will help me relax him. Barbie is such a social butterfly, she's really helped him come out of his shell a lot. (He's just quiet and a bit shy, nothing bad.) He'll enjoy sniffing around wine country up in the California mountains, and the whole town opens it's doors and hearts to us, so he'll get to sniff around stores, parks, you name it!
Hugs to you all and to your hounds,
Em and the Gang