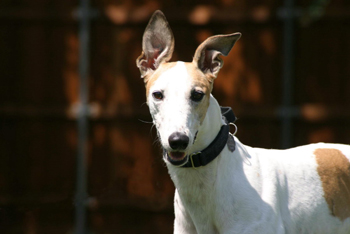 Allie, aka Yopon Dally Up, is a beautiful, white and red, 4-year-old female born April 10, 2004. Her sire is Oshkosh Slammer and her dam is Yopon Show Up. Allie's racing career started on November 18, 2006, at Corpus Christi, TX, moving to and ending July 16, 2007, at Tampa, FL. Allie was found as a stray and taken to the Terrell Animal Shelter the end of February 2008. It was there that she gave birth to 6 puppies on March 5; 2 puppies did not make it, but 4 survived - 2 males and 2 females. Read about Allie and her pups here.
Allie has completed all of her medical procedures and is now ready to find her forever home!
Allie's introduction to cats: Allie got in a few sniffs of a couple of cats but figured out they were no big deal. She was mildly interested to see them roaming the house. Nigel's jump to the counter was a new trick to her and a greyt opportunity to sniff his backside. Domino rubbed around on her legs, so he sensed she wasn't a threat. However, Allie, like many others, isn't fond of other dogs in her face, and the cat friendliness elicited a warning from her. As always, I advise close supervision for her around cats and new dogs.
Allie has been with me since she had her puppies in March 2008. She has been a delight to have in my home. She quickly recovered from a bout of mastitis and her coat and condition are now beautiful. She appears to be small dog tolerant as a close friend brings her Toy Manchester Terrier over to my house.

A typical Velcro grey, she follows me from room to room. Unlike most greys, she is not normally found on the furniture - opting to sleep on her dog bed instead. I can't decide if it's out of choice or necessity. With 5 other large dogs, couch space is at a premium here! As a well-mannered adult, she is not overly exuberant, so she won't jump all over your guests. She is more likely to snobbishly wait for them to come to her for adoration! After all she is in retirement. She walks beautifully on a lead and would love to find someone to take her for walks, shopping and Sunday drives!

If I didn't already have 5, she would have claimed shotgun by now!

Allie's Foster Mom