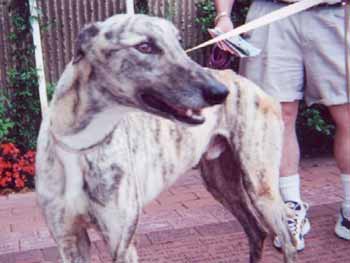 To the folks at GALT, about "Apollo - Connor - Magellan",
I have listed three names above because it represents what appears to be a litany of stage names for our wonderful new Grey. First let me explain how he is doing.
He and our female - Kali - have formed a bond. Kali is boss and Apollo - Connor - Magellan is who she bosses. I guess that even though he outweighs her by at least 15 pounds, he has already learned a valuable lesson. By the way, our 3 cats ignore both of them. Apollo - Connor - Magellan (ACM) now carries around Kali's toys, but she lets him do it. They have their walk together and drag me along every morning. Eating is still separate but ACM does not seem as hungry or quite as protective of his food. The cat jumped over him while he was eating the other day and he completely ignored her. Oh, I forgot to mention, he was eating the cat's food but I think we have that problem solved now also. Now to avoid the confusion of ACM, let me tell you what we have decided to name him and why.
Magellan basically sailed, or his ships sailed, around the world to prove it is round. Magellan also had to change his name because he made the Portuguese unhappy with him. ACM sailed from track to SPCA to GALT to Foster mom and then finally to us. He has made his journey around the greyhound world and now he is making our life a real joy.
Attached below you will find a picture that depicts him better than words. He is a real retired grey. Thank you for saving him for us.
The Busches