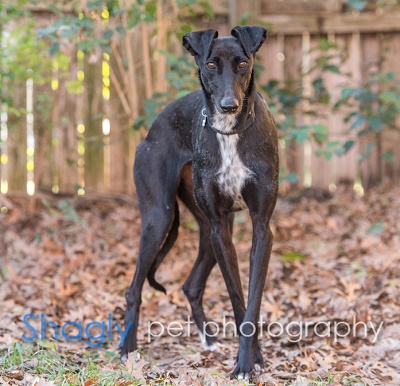 Audrey is a small black female greyhound estimated to be approximately 3 years old. She was an owner surrender to the Tulia Animal Control. It is obvious she has had puppies. Audrey has a positive titer to Ehrlichia Canis, and treatment has started. She is not small animal or cat tolerant at this time.
UPDATE 5/5/2017
Audrey has been successfully treated for Ehrlichia Canis and has completed all her medical procedures. This sweet girl is ready to find her forever home.
Watch more of Audrey
Audrey is a petite, playful, and loving girl. She's a little timid at first and it takes her a few minutes to decide it's okay to approach strangers. She picks up on cues from other dogs or from me that a stranger is friendly and that it's okay to approach them. She has been very welcoming towards visitors to my home. Once she adjusts to you, she's eager to please and is a snuggle-bug! Her favorite things are squeaky toys, getting pets, and laying on her dog bed. She is very playful with other dogs and loves to play with toys when she's by herself. Squeaky toys get her so excited, though she is a bit of a toy shredder! Audrey is the least food motivated dog I've ever had. You have to drag her off her dog bed to get her to eat. Audrey climbs open back concrete stairs with ease and adjusted well to apartment life. For potty breaks, she will need access to a fenced yard or dog run in her forever home. Audrey's ideal home would have no cats or small dogs, access to a yard or dog run, and lots of durable squeaky toys! She gets along well with large dogs and may be able to live as an only dog.

Audrey's Foster Family
The special medical treatment cost needed by Audrey is why the Miss Mesa Fund was established. If you would like to help with Audrey's care, please take a moment to make a donation to the fund. You WILL and CAN make a difference in Audrey's life and the lives of other greyhounds in need of special medical care. Your help and support will make a difference - one greyhound at a time.
Through the GreytStore

DONATE

Through PayPal

By Check

Greyhound Adoption League of Texas
3400 Carlisle St, #310
Dallas, TX 75204

Please note Miss Mesa Fund/Audrey on your check.