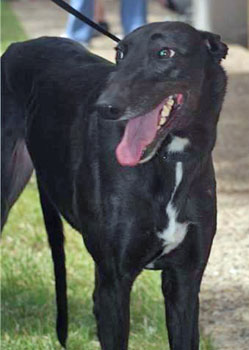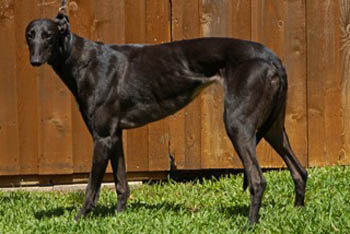 Bella, aka Bellucci Belle, is a 5-year-old black beauty born August 22, 2006. Bella's sire is Fortified Power, and her dam is Flying Bohemian. Bella has no races to her credit on Greyhound-Data.com.
Bella suffered a broken left front leg when she accidently ran into a gate at an enclosed facility. Surgery was performed on Friday, December 2, by Dr. Stephen Kerpsack at Central Texas Veterinary Specialty Hospital in Austin. A four hole plate was implanted to Bella's right radius and ulna. Now, 14 weeks later, Bella's leg is healed, and Dr. Kerpsack feels she will have a normal life as a companion pet. The implant appears to be secure in place; however, should irritation occur later, which is a minor possibility, it may have to be removed. Bella is finally ready to start the search for her forever home!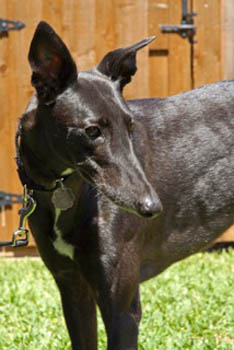 It is not known if Bella is small animal or cat tolerant.