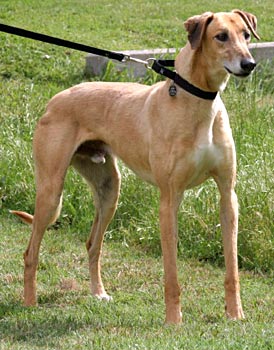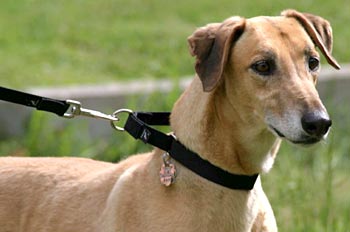 Bogan is an approximately five-year-old fawn male turned into the Humane Society of North Texas by a neglectful owner. Bogan is heartworm positive and will start treatment as soon as Dr. Jeff Ellis, VCA Preston Park Animal Hospital deems his condition will tolerate the treatment. He is a very sweet boy who is a little confused at this time. It is not known if Bogan is small animal or cat tolerant.
Update 6/12/08
Bogan received his first heartworm treatment on May 21 under the care of Dr. Ellis. He was not feeling well for the first 2 weeks, with a lot of coughing. He was administered a regime of antibiotics, which seems to have improved his condition. Bogan will continue to be closely monitored, and will be kept very quiet until his second round of treatments.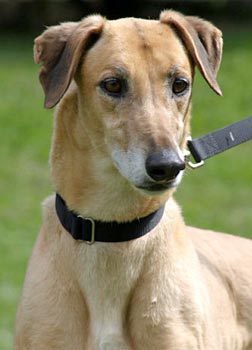 Update 7/15/08
Bogan received his second treatment for heartworms on July 9 and 10. He tolerated the two injections okay. Bogan is being kept very quiet in his foster home for the next 60 days, at which time it is hopeful he will test negative for heartworms.
Update 10/17/08
Bogan is finally heartworm negative! During the remainder of his surgery procedures, a growth was removed from Bogan's right hip, which has been diagnosed as histiocytic sarcoma. Dr. Jeff Ellis and Dr. Christy Soileau are evaluating his treatment options, if any, at this time.
Update 12/5/08
Because treatment options are discouraging, Bogan is in his "permanent" foster home for as long as his quality of life is good, and he is pain free. Dr. Ellis and Dr. Soileau are monitoring him regularly for changes to his medical condition. Bogan's best friend in his forever foster home is Jeremy, who is 10 years old. He and Bogan are inseparable, with Bogan sleeping nightly at Jeremy's feet.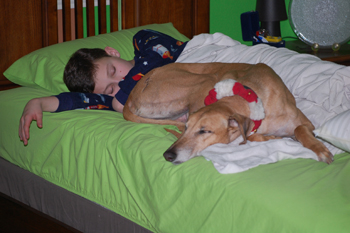 Bogan and Jeremy