Seniors are the best kept secret in the Greyhound World.
Please consider giving an older greyhound a special place in your heart!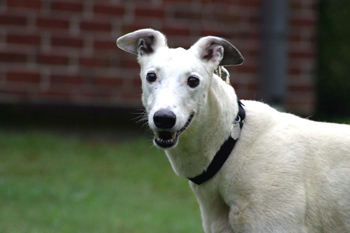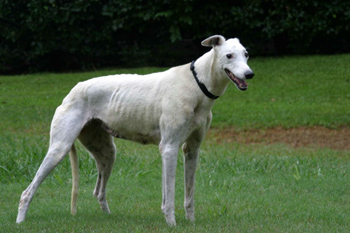 Bonnie, aka Bonnie Barker, is a 10½-year-old white and brindle female, born January 2, 1998. Her sire is P's Raining Cain and her dam is Dakota Dee. Bonnie has 85 races to her credit starting June 26, 1999, at Dairyland in Wisconsin, and ending February 9. 2001, at the track in Geneva Lakes. According to Greyhound-Data.com, she then became a brood matron, having her first litter in April 2005 with the sire Myokie Star; her second in October 2005 with Myokie Mike, and her last litter in May 2006 with Rooftop Moby, for a total of 14 puppies. Bonnie was on a greyhound farm in Oklahoma that closed down prior to coming to GALT. She is one incredibly sweet and loving girl, who certainly at this point in her life is ready for her forever home and couch. Bonnie's initial cat test while in a temporary foster home in Amarillo, showed her to be scared of the cats! She has not been tested with small dogs at this time.
Bonnie Barker is the perfect example of that "best kept secret" - the greyhound senior. She's had a racing career, a mommy career and now she is ready for her couch-potato career. However, she is no more a couch potato than the three other (and younger) greyhounds she lives with. She is always ready for a walk, a game of kill-the-stuffy, a good group howl, or a fast exit through the doggy door to protect the backyard from intruders. Bonnie gets along well with everybody, cats included.

Bonnie has a beautiful coat, thick and white with brown ticking. Her lively black eyes sparkle with energy and fun. Although her back legs may be a little wobbly when squatting, the ruckus you hear in another room is Bonnie entertaining herself by throwing her stuffies in the air and attacking them with great vigor. She has perfected the bow followed by a big grin to earn her treats. Although not overly vocal, she is a good watchdog considering she is a greyhound.

Bonnie will be okay with being an only dog or being part of a pack and older children who will be respectful of her age. As an older girl, she needs fairly frequent access to outdoors. She loves attention and being with people and is very affectionate in return. Bonnie is a classy lass who would be a delightful member of the family.

Bonnie's Foster Mom