Seniors are the best kept secret in the Greyhound World.
Please consider giving an older greyhound a special place in your heart!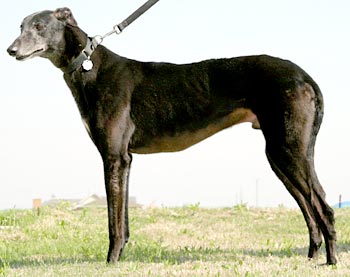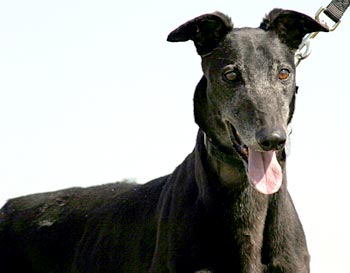 Booker, aka AZ Booker, is an 11-year-old black male born August 10, 1999. His sire is Solitary Runner, making his grand sire the famous HB's Commander, and his dam is Just like Butter. Booker is brother to Jesse. Booker has 120 races to his credit beginning March 11, 2001 at Gulf Greyhound Park in LaMarque, Texas, and ending at the same place on November 22, 2003. Booker was adopted and in a home for several years; however due to no fault of his own, it was not to be his forever home. Booker is cat and small animal tolerant.
UPDATE 7/9/16
Booker's cast has been removed as x-rays reveal his fracture has healed. He is being leash walked in his foster home and will be scheduled to complete his medical procedures soon.
Booker happily rejoined our family 3 weeks ago after almost three years with his adoptive family. Due to medical and job change issues the family was not able to keep Booker any longer.

We are glad that he is back with us as a foster, and we are hopeful that he will find his forever home even at the ripe young age of 11 years. You would never know the age of this boy except for a bit of graying on his face. He likes to play with his stuffed animals usually once a day, and when he goes outside, look out. He likes to run and follow our female greyhound around the ard...he is what you might call a copy cat. And speaking of cats, Booker gets along great with our 3 indoor cats as well as our 2nd greyhound who happens to be his litter mate, Jesse, another black male.

Booker will bark if he needs to go out and sometimes if he just feels like going out! He is the perfect house guest and enjoys his meals and snacks immensely! He is an especially slow eater so sometimes we have to take up his bowl of food so the other dogs don't finish it for him. In addition, he has a very sweet temperament and doesn't mind getting lovin from young children through adults. Booker will make an easy transition to any family! He is in great physical condition and like his brother, we expect them to be around for a long time. If you are thinking about sharing your love and attention with these wonderful athletes, please give consideration to this Super Senior, Booker! You won't be disappointed.

Booker's Foster Parents