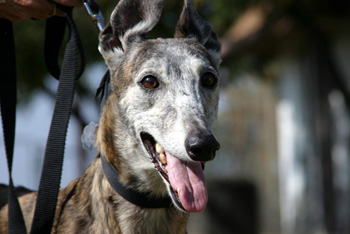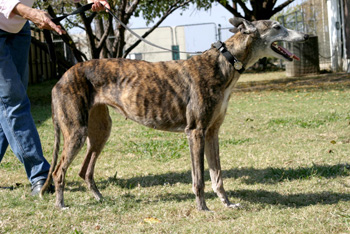 Dumplin, aka Singitfortom, is a pretty, 9-year-old dark brindle female, born February 21, 1999. Her sire is EJ's Douglas and her dam is Sleek Episode. Dumplin has 27 races to her name according to Greyhound-Data.com, all at Gulf Greyhound Park from January 5, 2001, to May 26, 2001. From there she went on to whelp 17 pups in two different litters; the first being when she was bred to Gable Dodge and had 8 pups on February 24, 2002, and the second being when she was bred to WW Time Warp and had 9 pups on December 20, 2002. Dumplin was living on a farm for the past 5 years, and unfortunately was heartworm positive when she arrived. She completed her successful treatment and now tests heartworm negative, so is ready to find her forever home!
Dumplin's cat test: Dumplin came to visit and to meet the big cat, Domino. She moved in for a couple of sniffs, first with muzzle, then without. She was indeed interested when he was walking across the floor, but once he was settled in a chair or eating, she looked away and seemed more interested in other sights and smells around the house.
Dumplin decided to get comfortable in a pile of laundry below the dryer while Dom was on top of the dryer for an afternoon snack. That cat just a couple of feet above was the least of her cares. Dumplin is also eager to get into the car or SUV to go for a ride. She was a sweet, mellow girl for her bath and visit this afternoon. For now, Dumplin passes for cat trainability, but I recommend close supervision for a while since she was only around the cats for a short cat test.
Evidently, Dumplin has not yet read the part in the greyhound behavior manual where it suggests that nearly nine-year-old girls recovering from heartworms do not act like puppies. Dumplin is a very smart, beautiful brindle girl - with that dignified salt and pepper face and a tail dipped in white paint - who has been too busy playing with toys to have kept up with her reading.

When she is not carrying around the stuffies and shaking the stuffing out of them, she is making sure that each dog bed in the house has at least one stuffie to serve as her pillow. She is not especially happy to get up in the morning, but she does love being outside. She loves exploring, and would gladly chase squirrels. She would also love to be running circles around the yard with the other greykids, but that will have to wait until she tests negative for heartworms.

Happy Dumplin greets everyone with jubilant tail wags. Actually she greets everything with jubilant tail wags. Lying down is not a deterrent to wagging her tail. She loves meals, snacks, rawhides, kongs, ear scratches, just being wherever her people are. She is a study and a lesson on how to live and appreciate a happy and full life.

Dumplin has to be crated to keep her quiet sometimes. She crates well, especially if a treat awaits her, and she'll often just choose to sleep in the crate. She does have a touch of princess in her, however. She does try to have things her own way, moving only when and where she wants.

Dumplin mastered the laminate floors immediately, despite a slight rear hip weakness. She learned the house routine right away including that "stay" means "no you can't run out the front door every time one of your people comes or goes."

Now we understand why greyhound groups repeatedly emphasize how seniors are the best kept secret. Dumplin is the oldest foster we've had. This girl is full of life and love and personality and energy. She radiates confidence and spunk.

Dumplin's Foster Mom