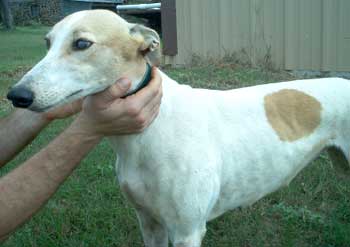 Gummy Bear, aka MH Gummy Bear, is a beautiful 7½-year-old white and fawn female, born August 11, 1997. Her sire is EJ's Douglas and her dam is Brink's Candie, making her grand sire HB's Commander. She was a solid Grade A racer at the Wichita track and has had two litters of pups. Her first breeding was to the famous Irish stud Fortress, with three offspring being born in September 2001. The second breeding was to Trojan Cruze with five offspring being born in April 2002, and one of these offspring is Twist.
Gummy Bear was in a home for 11 months, but has been returned as she requires medication administered several times a day for Pannus, an eye condition common in the Greyhound breed. This medication will be required for the rest of her life to keep the condition from progressing. The approximate annual cost for this medication is $450.
Gummy Bear gets along well with other greyhounds, but it not known if she is small animal or cat tolerant at this time.