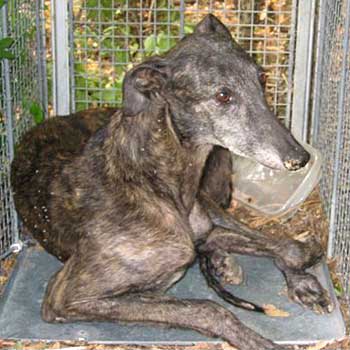 Texas Greyhound Association's Executive Director, Diane Whiteley, received a phone call about a stray greyhound that had been sighted around an apartment complex in Irving. She, in turn, called GALT to ask for help…..and so Princess's Fairy Tale begins...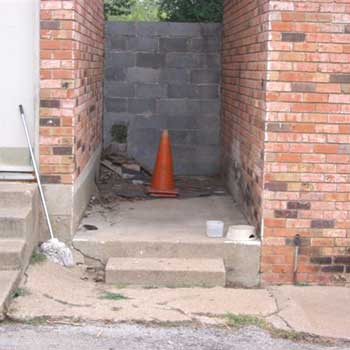 Teresa, the apartment manager, and her aunt, Terry, began seeing a greyhound around July 1 at their complex which is west of downtown Dallas fronting the Trinity River bottom. They immediately began leaving food and water out, as she was extremely thin. Twice a day for almost 4 weeks, at 7:45 a.m. and 7:00 p.m., this dark brindle greyhound would come and eat in a cubby hole at the end of one of the units, just next to an alley between the adjoining complex.
She was very scared and skittish and would only allow Terry's 15-year-old granddaughter, Sara, within 8 feet of her. Sara would talk to her and coax her day after day, but "Princess", as Sara named her, just would not trust anyone.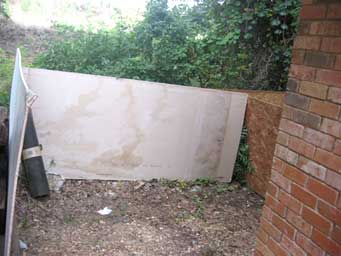 GALT volunteers, Angela Walling and Randy Shipp, along with greyhound Archie, went over that afternoon and the hunt began. Princess eluded everyone that day, but Angela came back the next afternoon and set up a "trap" using plywood in the adjoining alley area. She almost had Princess but ended up scaring her away.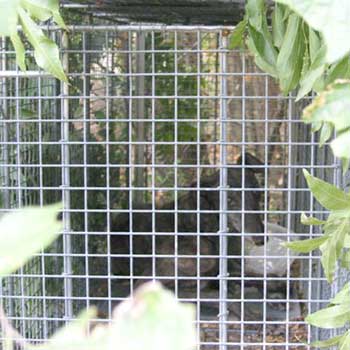 The next morning, GALT adopter and volunteer, Phil Carlson, joined Angela in the search. For 4 hours they sat, walked, stood still and looked -- all to no avail. The consensus was she had been frightened by all the activity of the previous day. Terry, Teresa and Sara continued to put food out day and night. The food was always gone in the morning, but she was not seen for several days.
GALT then contacted Operation Kindness, who generously lent their humane trap for her possible capture. Phil picked it up and on Sunday evening, July 25. Angela, Phil and another GALT volunteer set it up in an area where it was thought she had been sleeping. Everyone thought this would work only once, because if she was scared off and not captured, she might run forever.
Teresa called the next morning about 11:30 to say Sara had checked on the trap, and Princess was there!
The waiting, looking and stalking was over – Phil and Angela both left their jobs immediately and loaded the trap safely into Phil's truck, securing it tightly.
Princess's first stop was Preston Park Animal Hospital where Dr. Jeff Ellis examined her carefully and performed all her preliminary medical procedures. From there she was taken to Houn' House for an inspection and a bath.
Princess is in remarkably good condition considering she had been "in the wild" for over 30 days. Her regular meals have helped, although she needs a lot more. Her birth date tattoos are legible - 88C - showing she is six years old, but her registration ear is double tattooed. We are waiting on her blood work results for her tick testing, and it is amazing that she is heartworm negative at this time. Please check back here periodically for her updates.
If Princess could talk, she would probably say:

I understand my name is now Princess.

For quite some time I had been living alone in Irving, Texas, behind an apartment complex trying to find enough food to stay alive. I can't remember where I was before that. There were some really nice people there who put out food and water for me every day. There was also a mean boy there who threw rocks at me, so I had to be really careful. I was very careful to stay far away when people were around so they would not catch me.

On Monday, July 26, 2004, I was going about my daily routine, when I found a nice shelter with the best smelling food I have ever smelled. I was just beside myself at my good fortune, especially on a Monday! And then I saw there was water right next to it. I just knew this was my lucky day. Little did I know how true that would be. When I went into the shelter, the door closed behind me and I realized it was a trap. I was thinking, "So much for my luck."

Not long after that, the little girl who made sure I got some food every day came and found that I was in the trap. She ran away and told everyone where I was. A lot of people came to see me and picked up my trap and put me in the back of a truck. I was so scared, but everyone was being really nice to me and that made me feel good. They seemed really excited that I was in the trap.

I was taken to a place with lots of other dogs. Two really nice people gave me a bath with oatmeal shampoo and that felt really good. They looked at me all over to make sure I was all right. I guess I passed their inspection. It has been a long time since I felt that good. Then they put me in a little room of my own with food, water and a bed. I was really exhausted so I went to sleep. It really did turn out to be my lucky day.

I just want to say thank you to everyone involved. Even if you can't hear me, I'm sure you can see my gratitude in my eyes. I'm sure you will be hearing from me again. I'll let you know how I'm doing.

I'm going to work really hard to live up to the name given to me...Princess.
Update 8/2/04
Princess is in the foster home of two of her rescuers, Angela and Terry, where she is very timid, but is warming up day by day. Her tick test results were remarkably negative to Babesia Canis, Ehrlichia Canis, Lyme Disease and Rocky Mountain Spotted Fever. The continuation of her medical treatment, spay, dental, et al, will wait for several weeks.
Update 8/12/04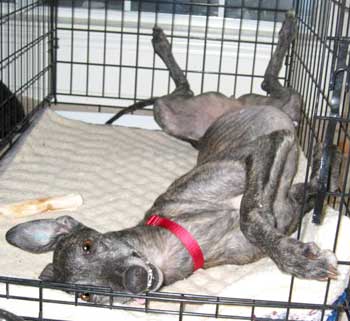 Over the last few weeks Princess has really started to break out of her shell. The first few days were very rough on her. She went from running free on many acres of woods and brush to living in a one bedroom apartment on the third floor. The first challenge (as with every dog we foster) was the three flights of stairs. Before Princess was captured I spent many hours trying to catch her so I knew she was very intelligent. Stairs would not be much of an obstacle for her, just her fear of them. I took out my Ziploc bag full of hot dog pieces, cheese, and turkey meat and put a piece on every other step. And Voila! It worked! Her intellect and hunger surpassed her fear. She was up those stairs in no time, just like an old pro. Walking into her new temporary home for the first time, Princess ran straight to her crate in the corner. She camped there for the whole night, scared to move around too much and very unsure of her surroundings.
During the first week, Princess would only eat her food or drink her water if it was inside her crate. She was very quiet and would stay only in her area, but she is now venturing out more each day. She still is a little wary, but allows me to approach her, brush her and give her medicine without much fuss. Now, in the mornings when I walk in the room she stands up and greets me with a few "Hello, I'm ready for my walk!" whines. This is a big improvement for her. The first few days I spent 15+ minutes making hot dog trails and bones to finally get her to come out enough so I could take her on a walk. It will take a lot of little steps for her to get adjusted to the everyday routine of life in a home.
My mother calls her "Miracle"; a name that I think is very fitting for this dark-brindled beauty. It was a miracle that we finally caught her after so much time, and also a miracle that she got a clean bill of health from the vet. Who would have thought skittish Ms. Princess could be such a joy to work with and foster. Day by day I see improvements in her. This morning she walked out of her crate to greet me and stood to eat her food out of her crate. This, for her, was a huge step. She is on her way to becoming a wonderful pet.