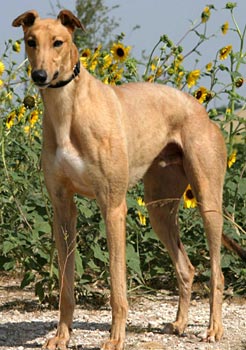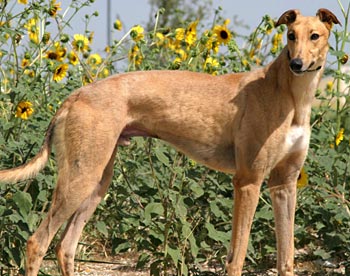 Mo, aka RZ Dynamo, is a handsome, 2-year-old, red fawn male born August 1, 2006. His sire is Dodgem By Design, making his grandsire the late Gable Dodge, and his dam is Rooftop Pinny, making Mo half-sibling to Custer and Sweetie. Mo did not have the speed like some of his 9 siblings, and only raced for a short time this year at Mobile Greyhound Park in Alabama. Mo knows his success will be in the adoption arena!
Mo and Molly the cat: Mo showed a little bit of interest in the cats, but after Molly gave him a hiss and swat he decided that he would rather be checking out something besides that little furry critter. I kept trying to get him to go back by either of the cats (one calm and nice, the other bratty) and he would look at them and then turn around and pull away. I think Mo should be cat trainable. Please always introduce him to any new cats with a muzzle and caution. Small dog testing will be another time.
Mo is a very handsome boy who rode very well in the car. He laid down most of the way and was a good boy.
Mo is a sweet, playful, laid-back boy who likes to follow you around the house. He loves to snuggle and he's ever so soft to pet. Mo can be a vocal boy but not to excess - he yodels and roos, along with a few barks. Mo is on the small side for a boy.

Mo adjusted very quickly to living in a house and it didn't take him long to earn house-roaming privileges. He likes having an open crate to retreat to when he wants to be alone, and is tolerant of being crated especially if he has a kong or chew toy. He has shown no inclination to mark and will potty either in the backyard or on leash. Mo gets along with the greyhound girls in the house. He learned "down" fairly easily and we're having fun working on other commands.

Mo behaves well on leash, but loud noises still make him a little jumpy. He meets other dogs both large and small politely. He likes to play with squeaky toys - throwing them up in the air and pouncing on them. He tends to nibble on you when he gets excited - we're working on that and he's much improved already. Mo loves to wade in the shallow slope of our pool, and would love to have a kiddie pool to splash in when the weather is warm.

Mo's Foster Mom

Mo with his new family and his new fur-sister, GALT Greyhound, Lillie.