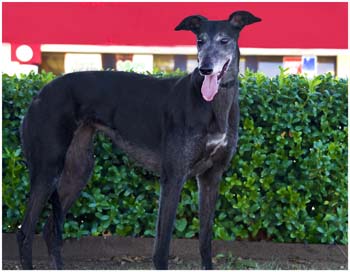 Nikita, aka Nikita Gold, is a 7-year-old black female born July 13, 2004. Her sire is Spiral Nikita, and her dam is U Too Dark Angle, making her grand sire the late great Molotov. Nikita's 46 races documented on Greyhound-data.com show her starting at Southland Race Track in West Memphis, AK, on February 13, 2006, and finishing there on December 7. 2006.
From there Nikita went on to whelp 32 pups starting June 20, 2007 with Dodgem By Design; February 4, 2008 with Dodgem By Design; September 14, 2008, with Silver Jones, and finally; May 2, 2009, with Oneco Cufflink. All this has been accomplished in 6 1/2 short years! Nikita needs a family to give her the well deserved retirement family she deserves!
Nikita is not cat tolerant.
Nikita is an absolute joy of a girl. She loves people, crates well, and learns quickly. She adores walks, and keeps a keen eye out for squirrels and rabbits - she's always the first greyhound on the walk to spot them. Nikita also loves squeaky toys and mealtimes and never says no to a treat.

She has fit in well with her greyhound foster siblings and can sometimes be found sharing a dog bed with those who don't mind sharing. She has not tried to get up on the furniture, and in fact often will flop down on the bare floor just to be in the same room with you. She has a sprinkling of white hairs on her face and legs, mixed in with the black - it's quite striking. Come meet this beautiful, confident, happy girl!

Nikita's Foster Mom