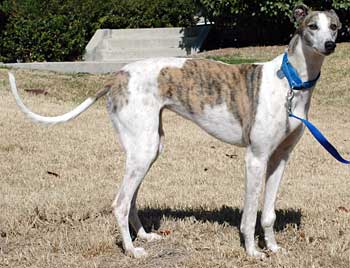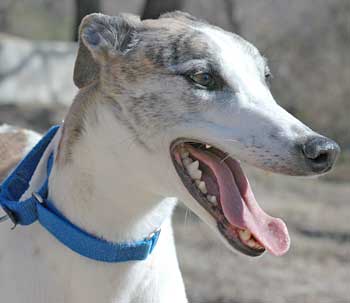 Sally has been diagnosed with osteosarcoma and is now under the care of Dr Jeff Ellis. The tumor surrounds the area of a previous fracture to the wrist area of her front left leg. Sally is being kept comfortable, and is well loved and cared for by her foster mom, Melissa.
Sally, aka Slatex Stretcher, is a 4½-year-old white and brindle female. She was found foraging for food in the Paris, TX city dump. There is no telling how long she had been living life as a stray, but by tracking Sally's ear tattoos, we know she was born on September 18, 2001 to sire SC's Mask Rider and dam Slaytex Shell. Sally competed in 23 races, finishing on November 22, 2003 in Corpus Christi.
Update 4/15/06:
Sally is responding well and seems to be very comfortable with the pain medication given to her. Her foster mom has decided to adopt Sally, giving her the forever home Sally so richly deserves along with unconditional love and care for the rest of her life.