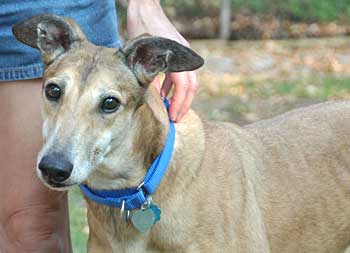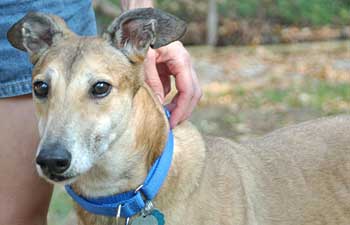 Sassey, aka Bohemian Sassey, is a beautiful red fawn 9-year-old female, born March 11, 1996. Sassey's sire is Minaki Zeke and her dam is Marque Liz. She has had quite a road leading up to her retirement, and it is about darn time for her to find the couch in her forever home!
Sassey's racing career, consisting of 141 races, started October 21, 1998, at the Orange Park, FL track, where she continued racing between there and Jacksonville Circuit, FL until April 14, 2000. From there Sassey went on to her brood career delivering three litters ? the first was sired by the famous Molotov producing 6 greyhound pups in January 2001. Her second "family" was sired by Oshkosh Slammer producing 6 pups in October 2001, and her third, sired by Always Faithful, consisted of 7 pups delivered in October 2003. From there she went on to be a blood donor.
This sweet girl has given, given and given of herself. Isn't it time for something to be given back to her? It is not known at this time if Sassey is cat or small animal tolerant.
Sassey is simply a wonderful dog! We've had her only one day and she has adjusted seamlessly to home life. She adapts very well to new routines. We have several other dogs, and she gets along great with them (like she's been here all along). She is loving and sweet and follows me around the house like a puppy. She is well behaved, and let's me know when she needs to go outside. We have a crate for her, and she seems very comfortable in it.

I gave her a bath and she stood perfectly still and really enjoyed it. Just a light brushing afterwards made her coat extremely shiny. This makes her red color even more strikingly beautiful.

Sassey is also warm and friendly with strangers. She loves attention and likes to nuzzle us in a really sweet way. She truly appreciates every small thing you do for her.

After a day of watching the other dogs play with toys, she has begun to play with them. I can't say enough about her, she's a marvelous dog.

Sassey's Foster Family