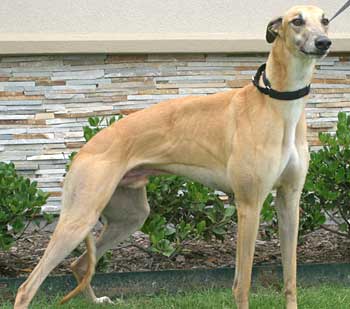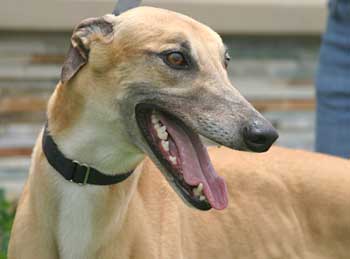 Cupid, aka Git On Cupid, is a handsome 2½-year-old fawn male, born in December 20, 2004. Cupid's sire is Nita's Jessie, making his grand sire P's Raising Cain, and his dam is EZ Dixie Redhead. Cupid is part of the "Santa's reindeer litter" that GALT received on Easter Sunday, 2007, when Valley Race Park in Harlingen closed. It only took 5 races for Cupid to know he was not a competitor at the track. Several of the siblings went to other adoption groups, but Vixen, Dancer, Prancer and Rudy (now Banjo), along with Cupid, stayed within the GALT family.
Cupid had an overnight cat test. He was a bit of a hard read when it came to the cats. He was very curious but did not seem to want to 'get' them. Because this was his first time in a home, he is most likely cat trainable. He will need close supervision and training to overcome his curiosity.
Cupid is a sweet, well-behaved and beautiful boy. He has stunning eyes with very dark liner. He was very interested in new things but was calm and quiet and very content just to be loved on. He slept all night and did not make a peep. He is going to make an awesome companion.