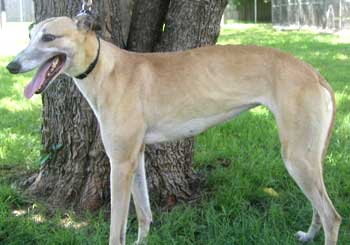 Vixen, aka Git On Vixen, is a beautiful 2½-year-old fawn female, born December 20, 2004. Vixen's sire is Nita's Jessie, making her grand sire P's Raising Cain, and her dam is EZ Dixie Redhead. Vixen is part of the "Santa's reindeer litter" that GALT received on Easter Sunday, 2007, when Valley Race Park in Harlingen closed. Several of the siblings went to other adoption groups, but Cupid, Dancer, Prancer and Rudy (now Banjo), along with Vixen, stayed within the GALT family.
Vixen's cat test was pretty short. I put the sassy cat, Molly, on the floor and Vixen's ears went up and her tail started wagging and she went toward the cat. Molly proceeded to growl, snarl, hiss, and smack Vixen on her muzzle. Vixen was DONE!! She backed up and wanted nothing more to do with the cat at that time. A little while later the other cat came out and Vixen was a little interested and wanted to follow Pepper, but when she got close to her and Pepper turned and looked at her, Vixen wanted to get away from her. She will need to be watched, but I believe she is cat trainable.
Vixen is a very sweet and loving girl. She almost immediately thought she should be able to be on the couch beside you (which of course we did not allow). She lays her head in your lap and loves for you to pet and hug her. She slept all night without a sound, she seems to be very adaptable and a good girl.
Now, we'll have to introduce her to small dogs to see how she reacts.
My name is Vixen, but I am called many other names:

Loveable I am. I cannot get enough. I am always with my people needing pats and hugs. Even when new people come to visit I get all their love for I am not shy.

Adorable also, I cannot pass up the opportunity to look at myself in the mirror. They say I have eyes like a deer.

I am also called Good Girl. I am house trained. I will even let you know when I need to go outside. I love to ride in the car. I like to feel the wind on my face and then I take a nap in the car. I do not have a problem with thunder, rain, or lighting. I also love my walks and do not tug unless I see a rabbit - not really much of a tug and then off to look for more. I sleep in my crate all night and often during the day.

Miss Personality should be my name as well, or Funny Girl. I am not perfect yet, but I am fast to learn.

See, I have many names, but Vixen is the one the GALT people know if you ask about me.

Vixen, via her Foster Family