Max , aka Wild Snyds Ride, is one of 9 greyhounds GALT received from a Fort Worth Animal Control cruelty case. Max is being treated for tick-borne diseases and a huge load of intestinal parasites. His health is being closely monitored by Dr. Christy Soileau of VCA Preston Park Animal Hospital. Max is thin and has open sores, but his body and spirit are recovering with the help of good food, a soft bed, and TLC from his foster parents. Max has not yet been tested with cats or small animals. Just like the other rescued dogs, he is positive to babesia as well as ehrlichia at extremely high titers.
Max is a 3-year-old black male born May 30, 2007. His sire is Flying Penske, and his dam is Kay Cari Pennys. There are no races to his credit on Greyhound-Data.com.
---
UPDATE 7/26/10
Max was seen by Dr. Christy Soileau at Preston Park Animal Hospital last week for a check-up. Dr. Soileau noted numerous areas of alopecia and crusting skin. Max's wound on his left haunch area is healing up very nicely. He is being treated with Doxycycline for 4 more weeks due to the ehrlichia.
Max was found in the same cage as Nicole, so the two are being fostered together in hopes of being a comfort to one another.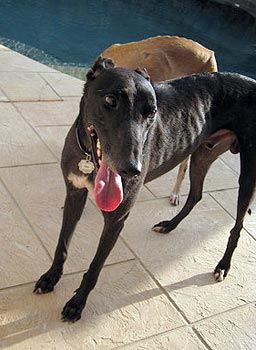 UPDATE 8/6/10
Max's stomach is still a little tricky, but he is being tempted with many small, delicious meals, and a very close eye is being kept on his health. He's quick to greet people with a wildly wagging tail, but his favorite activity is a good, long greyhound nap. His skin is looking a lot better, and he's growing new hair in his bald patches.
UPDATE 9/22/10
Max is doing well and has completed his medical treatments. He will be retested in several weeks with the hope he will be cleared to be neutered et al! Look at that beautiful, shiny black coat! What a transformation!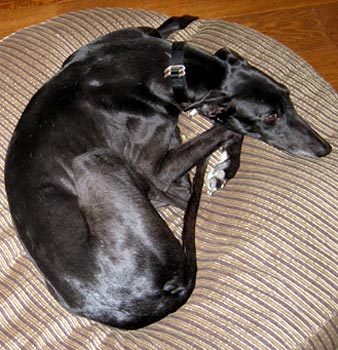 UPDATE 10/6/10
Max's current bloodwork shows him to be PCR negative for all tick borne diseases as well as heartworm negative. He is going forward with his neuter, dental and balance of his medical procedures on Thursday, October 7.