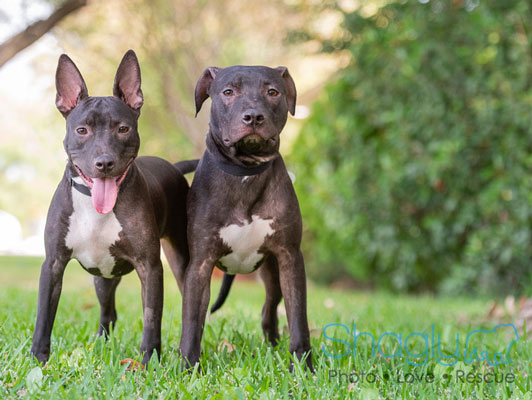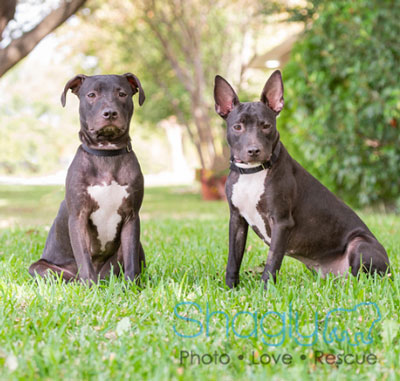 Nick and Nora are 2 year old siblings that were rescued from a law enforcement cruelty seizure by Pauls Valley Animal Control, Oklahoma. They were very thin when they were taken in, and certainly were mistaken for greyhound puppies! But once a GALT greyhound, always an honorary GALT greyhound! Nick and Nora are extremely bonded and depend on each other, so of course they will be adopted together, but for just the adoption fee of one. A DNA test was performed showing them to be American Staffy and Boxer crosses. They are extremely sweet and loving. We refer to them as GALT's "greyhound gremlins".
Currently Nick and Nora are living with cats and large dogs.
Nick & Nora's non-refundable adoption fee is $150.
Nick and Nora are such sweet and special souls. When they arrived, they were skin and bones and so afraid of everything and everyone. In three months, they have conquered so much but are still getting used to life in general. They are becoming happy and more secure dogs but are still startled by loud noises and fast movements, especially Nick.

These two are Peas in a Pod but they have very different personalities. Nora is the braver one of the two and the leader. She can be a girl on the go while Nick likes to kick back a little more and take it all in. They both will need a little time to adjust to a new environment and people, but Nick may never be as trusting with strangers. Once you earn Nick's trust, it is worth the wait and patience--his trusting cute face will melt your heart. Nora has more of a terrier personality and with that, terrier vocal cords. When the two play they can get noisy and sound like they are Tasmanian devils, but they also make the cutest and strangest sounds, hence their nickname, "The Gremlins".

They are learning how to walk on a leash. Currently, they are at the pull and drag as hard and fast as they can stage. Nora can pull harder than most greyhounds, so they will need someone with good knees and strong arms to help them learn to walk. They are both very food motivated, and their favorite word is "treat"! They respond very happily to treats which is a big plus for training. They are house-trained but one cannot rule out an occasional accident, especially in a new environment and new routine. You do need to keep items picked up and keep an eye on them as they have been known to mistaken household objects as toys.

If you want some couch or bed cuddlers they are the perfect size, but they do also love dog beds. Their DNA results may be a bit deceiving based on their size, Nick is about half of a small greyhound and Nora is even less than that.

A quieter home with older children, if any, would work best and preferably a home with a yard. They love playing with our 3 greyhounds and are ok with cats. They will be extremely hard to part with but will add character, cuteness and laughs to the right household. They are adorable!

Nick and Nora's Foster Parents
Watch more of Nick and Nora