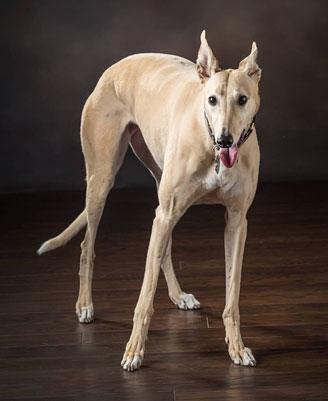 John Hudson Photography
When Barb and Ron Christian lost their precious Julie (aka Gratify Julie, GALT #1253) on 6/17/20 at age 13, they knew she would give them one last gift – the idea to help the greys in boarding via the House-A-Hound fund. Barb met Julie on her first day volunteering for GALT in December 2008. When Julie hopped off the hauler with her twin sister Jenny, it was love at first sight! It should have been hard to decide between the identical twins, but for some reason Julie stood out. She brought incredible joy to her forever family, and they are happy to kick off her fundraiser -- Julie's House-A-Hound Fund!
For every $25 donation made to GALT's House-A-Hound fund – in Julie's name or in memory / honor of your own grey -- between June 24th and July 31st, the donor will receive a package of 8 note cards, customized with the picture and name of his/her dog on the front. The cards are printed on high-quality pre-cut cardstock (see samples below) and are a wonderful way to honor or memorialize your own special pet.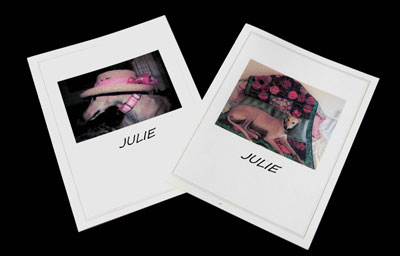 By providing a cash donation to start the fund, plus card supplies and postage, the Christians hope to encourage others to help raise a minimum of $1,000 for GALT – and much more if possible! If you would like to participate in Julie's fundraiser, just go to this link to make your donation, and then email your pet's picture in high-resolution JPG format to: bchristian@galtx.org. Barb and Ron thank you for your support of this worthy cause honoring the memory of their sweet Julie.
If you are outside of North America, we will ask for an additional $10 donation to cover extra postage.