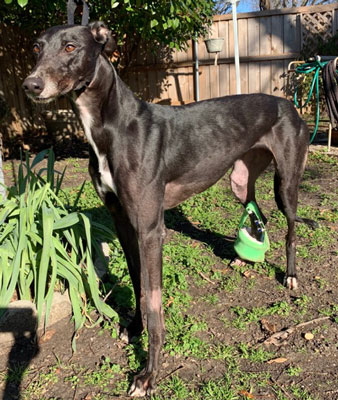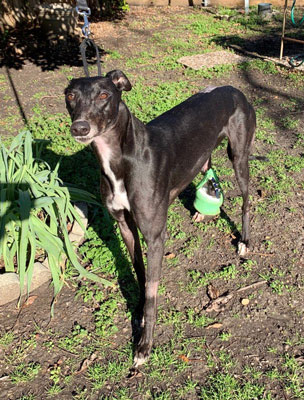 BooBoo, aka Slatex Booer, is a 2 ½ year old, black female greyhound born on May 13, 2017. Her sire is Flying Fired Up and her dam is Slatex Slaton. BooBoo has an amazing 54 races to her name, and suffered a central tarsal bone fracture of her right rear leg during racing at Gulf Greyhound Park in LaMarque, Texas on January 11, 2020. Prior to Gulf, she raced at Tri State in Cross Lanes, West Virginia. BooBoo placed first or second in almost half of her races. Her surgery is scheduled for February 3 with Dr. Bob Radasch of Dallas Veterinary Surgical Center, in which an external fixator will be implanted after securing the bone with a screw. It is not known at this time if BooBoo is small animal or cat tolerant
The special medical treatment cost needed by BooBoo is why the Miss Mesa Fund was established. If you would like to help with BooBoo's care, please take a moment to make a donation to the fund. You WILL and CAN make a difference in BooBoo's life and the lives of other greyhounds in need of special medical care. Your help and support will make a difference - one greyhound at a time.
Through the GreytStore

DONATE

Through PayPal

By Check

Greyhound Adoption League of Texas
3400 Carlisle St, #310
Dallas, TX 75204

Please note Miss Mesa Fund/BooBoo on your check.