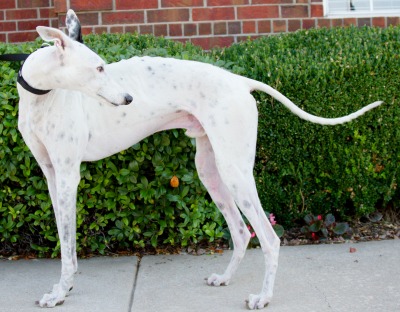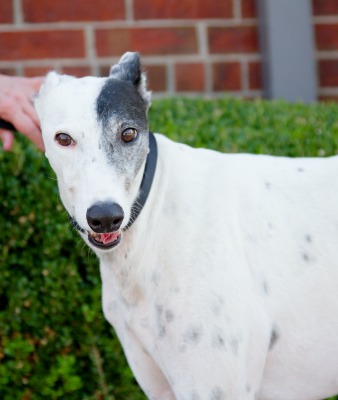 Ghost is an approximately 7 year old white and black male greyhound. Ghost's medical tests reveal he has a positive titer to Ehrlichia Canis as well as a positive borderline heartworm test. Ghost also has multiple intestinal parasites and a skin infection. Treatment for the Ehrlichia, intestinal parasites and infection has commenced. His heartworm test will be repeated around 10/22/16. It is not known if Ghost is cat or small animal tolerant at this time.
UPDATE 11/1/16
Ghost's heartworm test revealed positive, so he received his first treatment for heartworms on 10/31/16. He is tolerating the treatment okay. He will be scheduled for his second treatment in 4 weeks. He is receiving treatment also for the Ehrlichia Canis.
UPDATE 2/1/17
Ghost is still testing positive to heartworms, so he will be kept quiet for the next 4 weeks and retested at that time.
The special medical treatment cost needed by Ghost is why the Miss Mesa Fund was established. If you would like to help with Ghost's care, please take a moment to make a donation to the fund. You WILL and CAN make a difference in Ghost's life and the lives of other greyhounds in need of special medical care. Your help and support will make a difference - one greyhound at a time.
Through the GreytStore

DONATE

Through PayPal

By Check

Greyhound Adoption League of Texas
3400 Carlisle St, #310
Dallas, TX 75204

Please note Miss Mesa Fund/Ghost on your check.