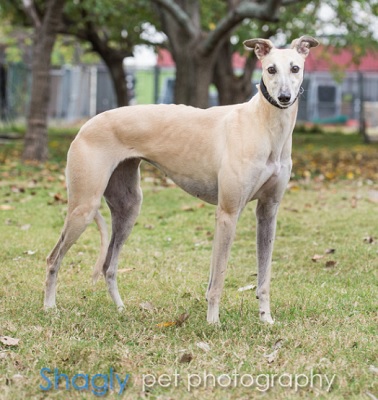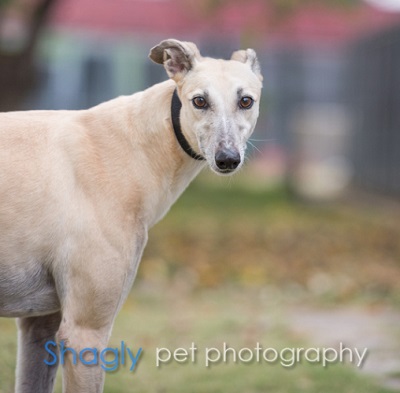 Goldleaf is a 5 year old fawn female born in 2012. She was part of the population from the blood bank facility located in Cherokee, TX that closed in November 2017. Goldleaf has been medically evaluated by GALT's veterinarians and has completed all her medical procedures. This beautiful girl is ready to find her forever home. It is not yet known if Goldleaf is small animal or cat tolerant. Please check back periodically for updates on Goldleaf as her journey to a forever home unfolds.
Goldleaf is a shy one, but once she learns to trust she'll be the best girl ever. Each step forward is an amazing accomplishment. She loves being around other dogs, and is quite comfortable with them around. She likes to stake out a bed in the office when I'm on the PC, and then claim it as her own spot. Otherwise, she looks for her crate for relaxing.

When I say 'shy', I really mean shy. Once she's in her crate, I have to lead her out by her collar. We're still working on her coming back in on her own, and she's made great strides – if I leave the door open she'll often come right back in. If she's reluctant, for whatever reason, I may have to wait her out – if you chase her she'll run – a fun game! We have a routine where if I go to a certain part of the yard, she'll come up to me when she's ready to come in. Goldleaf also loves the older male Greyhound I'm fostering, and seems to follow him or one of the girls when they go out. It's funny how she mimics what they're doing in the yard.

Goldleaf really loves her people, she's just not 100% comfortable approaching. If she's off in the yard and I call her, she'll come flying up to me and then put on the brakes about 10 feet out. This is a huge improvement, as she didn't respond to her name at all when she arrived. She adores ear scritches, and will stretch her neck out for you to rub her.

Goldleaf is a collector. Not only have I found various stuffies in her crate, but I noticed recently the collar basket was knocked over, and a couple of the collars were in her crate (not chewed at all). So she picked out her 'pretties' and surrounded herself with them.

It's important for Goldleaf to have a greyhound buddy in her forever home so she can take direction from them. She does well with small dogs as well. Because of her nervousness in the backyard, it will best to take her out in the yard on the lead to establish a routine.

I know that a shy dog is not for everyone, though I think Goldleaf will make a great addition for the right home.
Goldleaf's Foster Family