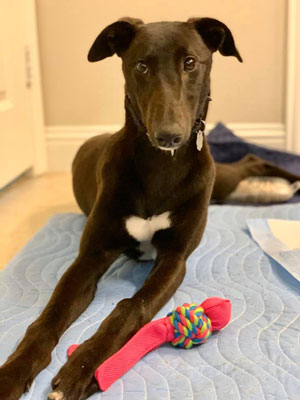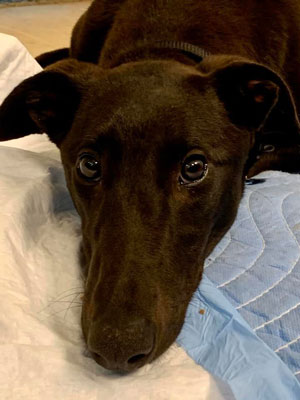 Midge, aka Dancin Jorden, is an almost 6 month old black female puppy born September 26, 2019. Her sire is Kiowa Mon Manny, and her dam is Dali Blues. It is not known how Midge's injury occurred at the farm in the puppy run. Her x-ray shows the fracture very plainly in her right rear lower leg. Midge is scheduled for surgery on Tuesday, March 17 with Dr. Bob Radasch of Dallas Veterinary Surgical Center. Midge should not live wtih cats nor small dogs.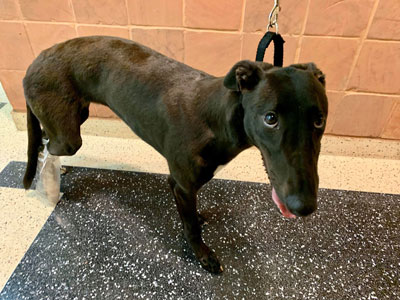 Sweet adorable Midge is such a typical puppy - wild bursts of energy followed by plenty of time to recharge her batteries! She is quite the tomboy and is fearless with the older, larger dogs in the house. We think she's going to want to be the Alpha female when she grows up. That little issue of having a broken leg? She did fine when she was in the cast and now that she's out, she is using her leg more and more. When Midge gets going a bit fast, she will skip; getting her to slow down has been a bit of a challenge!

Midge is not deterred when she gets warning growls from the elders, and she happily goes about doing her puppy thing anyway. She has sought out our other foster as her play buddy, an 80+ lb 3 yr old boy,and they have a GREYT time. Big mouth bitety face, tug of war, chase and literally bouncing off furniture - they have a morning session followed by a well deserved nap and another wild reprise before bedtime so they can get a good night's sleep! Because she can be vocal, Midge should not live in an apartment.

Toys, toys, toys! There are never enough! Fill the toy box up and she will empty it during the course of the day. All types are her favorite! Balls, sequeakies, rope type - anything goes. Of course as a puppy she chews and destuffs stuffies, so we distract her with something acceptable to keep her busy.

Midge eats in her crate and patiently waits to be let out so she can inspect everydoggy else's bowl. We crate her when we go out - she barks wildly for a while and then settles down. When we get home she patiently waits for us to let her out. While she does well crated during the day, she does not want to be separated from her people at night.

Midge is a full fledged couch potato and takes her naps seriously. She will climb up and settle in quickly. In order for everyone to get sleep we broke the cardinal rule and let Midge sleep in the people bed with us. She is a terrific sleeper - snoozes quietly through the night and does not sleep startle. She awakes happy and ready to start her day.

Car rides are fine, thunderstorms are non-issues, treats are magical, cardboard is fun, and be sure to put your shoes away! The ideal home for Midge will have other energetic large dogs, a yard where she can run and play, plenty of toys, no cats or small dogs, and a family who doesn't mind sharing a couch or bed with this little cutie!

Midge's Foster Parents
Watch more of Midge
The special medical treatment cost needed by Midge is why the Miss Mesa Fund was established. If you would like to help with Midge's care, please take a moment to make a donation to the fund. You WILL and CAN make a difference in Midge's life and the lives of other greyhounds in need of special medical care. Your help and support will make a difference - one greyhound at a time.
Through the GreytStore

DONATE

Through PayPal

By Check

Greyhound Adoption League of Texas
3400 Carlisle St, #310
Dallas, TX 75204

Please note Miss Mesa Fund/Midge on your check.