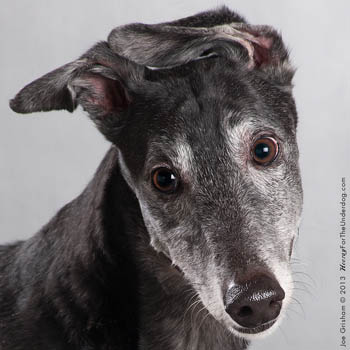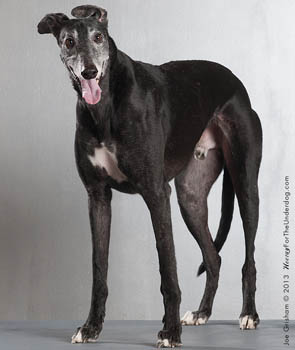 Clooney is an 8-year-old black male born April 2004. He arrived from the same source as Stetson, Onyx, Blade, Cupcake, Harry and Carbon, Timex, Stewart and Charity. Unfortunately all ten arrived testing positive to heartworm. Clooney also had a heavy burden of intentinal parasites, and several large wounds.
We're delighted to announce that Clooney is the first of the "Heartworm Ten" to test negative to heartworm! This handsome fellow is all healed up and ready to look for his forever home! Clooney would do best in a quiet home without small children.
Clooney has passed an initial cat test and has spent more time with cats in a temporary foster home - he is cat tolerant. New pictures coming soon.
Clooney has overcome his previously rough life, and has shown us all how forgiving and resilient greyhounds can be. He has changed from a fearful, hesitant, frightened boy into a tail-wagging, loving, car riding fool! He is completely uninterested in small dogs, cats, ferrets, gerbils and birds at meet & greets. He loves all the dogs in his foster home, and the people he has met.

His fear of walking on wood floors, tile and linoleum is completely forgotten if he's out and about at a Meet and Greet. There he wants to explore, sniff and experience all he can. At his foster home, he is walking just fine on any flooring as long as there are some throw rugs and dog beds scattered around to comfort him. He absolutely refuses to use the dog door, so will do best in a home that can let him out and in, and he will ask politely with a whine for OUT and a short bark for IN. He will jump into the car at any time, and immediately lays down for the ride.

He eats well, loves treats, doesn't seem too interested in stuffies, and doesn't mind nail clippings. Now that he is Heartworm negative, he is ready to find his Forever Home. Come meet this sweet boy, and see if he's the one for you!

Clooney's Foster Mom