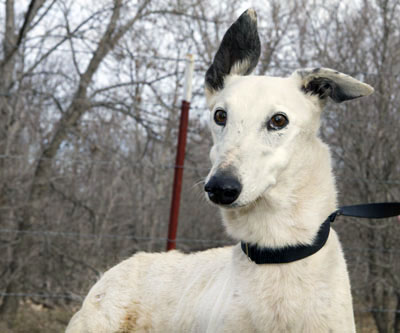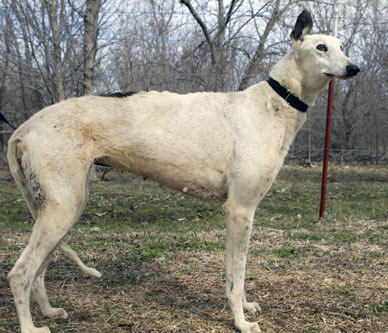 Charity, aka DG's Afterburner, is a 10-year-old white and brindle female born January 1, 2002. Her sire is DG's True Blue, and her dam is Kelso's Pamela. There are two races to her credit at Raynham/Taunton, MA in July 2003. Charity arrived from the same source as Stetson, Onyx, Blade, Cupcake, Timex, Carbon, Harry, Clooney and Stewart. Unfortunately Charity, like the nine others, is also heartworm positive, and she is also carrying a heavy load of intestinal parasites. Charity's hair is thinning, expecially on her back, and she has a wound on her lower lip. Treatment for Charity will have to wait until a foster home is available. Results from the tick panel performed by Protatek are pending at this time.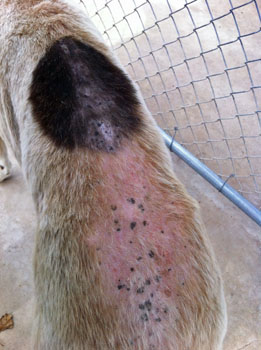 Charity has not yet been tested with cats or small animals.
UPDATE 2/14/12
Charity's heartworm treatment has been delayed as she has been diagnosed with an extremely severe case of pyometra. Dr. Jeff Ellis of VCA Preston Park Animal Hospital will be performing emergency spay surgery on February 15. Her heartworm treatment will be scheduled depending on the outcome of her surgery and her recovery process.
UPDATE 2/16/12
Charity's surgery went routinely. She also received a dental cleaning and had 14 teeth pulled! She will feel so much better with the infection and bad teeth gone.
UPDATE 4/2/12
Charity had some complications following her spay surgery and ultrasounds showed several abscesses in her uterine wall. Those were removed and biopsies performed which showed nothing cancerous or malignant at this time. Hopefully she will be able to start her heartworm treatment soon.
UPDATE 5/20/12
Charity's first heartworm treatment was completed on April 26. She is being kept very quiet in her foster home. Her second round of treatment will be scheduled 30 days from the first.
UPDATE 6/10/12
Charity received her second round of heartworm treatments on June 6 and June 7. Her foster home is keeping her very quiet for the next 60 days.
UPDATE 8/6/12
Charity is still testing heartworm positive. Her foster home is keeping her very quiet until she is rechecked again in 30 days. Only two of the Heartworm 10 have been cleared since their treatments started in January and February of 2012.
The special medical treatment cost needed by Charity is why the Miss Mesa Fund was established. If you would like to help with Charity's care, please take a moment to make a donation to the fund. You can use a credit card, check or PayPal by making the donation through the GALT GreytStore. You can also write a check (Greyhound Adoption League of Texas, P.O. Box 680, Addison, TX 75001) and note Miss Mesa Fund/Charity on your check.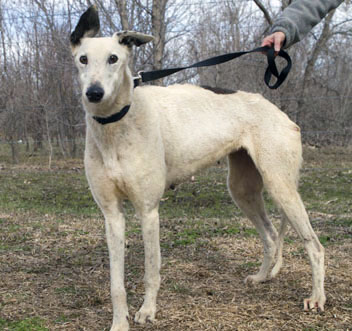 Alternately, you can make a donation using PayPal by clicking on the button below. (The PayPal screen should appear in a new browser window; to return to GALT, close the PayPal window when you're finished making your donation.)
You WILL and CAN make a difference in Charity's life and the lives of other greyhounds in need of special medical care. Your help and support will make a difference... one greyhound at a time.