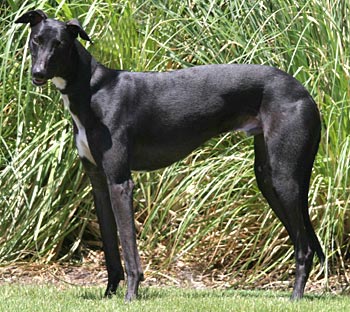 Barnaby, aka Paddy, is a handsome, 14-month-old, black and white male born March 5, 2008. His dam is Allie, and he was one of four surviving pups. Barnaby has been in an adoptive home for a year now, and unfortunately due to life changes, his home is not able to keep him. So, Barnaby is ready to find his forever home.
Barnaby's cat test: Barnaby passed his cat test. He spent some time here and was allowed free reign of the house, which he mostly spent playing. He's playful approaching the cats, but turns and leaves them alone. He got to meet all three cats and got a good sniff on each one. When introducing a dog to a new household, it is best to closely supervise their introduction to the family members, especially the felines.
Barnaby never meets a stranger and is always a happy boy. He has grown into his beautiful greyhound tuxedo coat and is ready to go to his forever home. Barnaby loves company and enjoys both four-legged and two-legged companions (including one very noisy bird!). He has been through three months of obedience training and can sit AND SHAKE! He has always been in a home and, as such, has an exuberant personality of a dog who has been well loved and cared for. He loves playing with other dogs, large and small, but is also very content to play with his toys all by himself. He is such fun to watch as he throws his toys and then runs to retrieve them. Did I say retrieve? This guy will play fetch until your arm is tired! He has toys that squeak and enjoys carrying and throwing them around. He loves all of his squeakies and stuffed "lovies" and can also play an admirable game of soccer!

Barnaby is always happy and will lift your spirits with his openness and playfulness. He is inquisitive about everything and takes on every adventure with enthusiasm. He is house trained and has access to a doggie door but he also knows how to ask to go outside when necessary. He walks well on a leash, but sometimes needs the gentle leader to keep him in check! He does not sleep on or get on any furniture, but enjoys dog pillows to fluff and snuggle with.

Barnaby enjoys being petted by anyone and everyone, but has not been around children under 5. He would be a wonderful addition to any family who has time and a place in their heart for this amazing little guy in a tux!

Barnaby's Foster Family
---
Barnaby/Paddy was born March 5, 2008, at the Terrell City Animal Shelter, along with Quinn, Erin, and Fiona to his mom Allie.
See more about Paddy's story here.
Pictures from a little over 2 months old:
Pictures from almost 6 weeks old: