GALT has taken in 7 of the oldest greyhounds from a farm closing in south Texas. Four of these are Irish-born and bred, so they are GALT's O'Greys - ChaCha, Foxie, Patty and Madge. The other three are JoJo, Nice Girl and GoGo. Each has completed all medical procedures, losing most of their teeth from the severe dental condition. There is nothing like a senior greyhound! Please consider making a place in your heart and home for one of these girls. All they need is a soft place to lay and food for their tummies.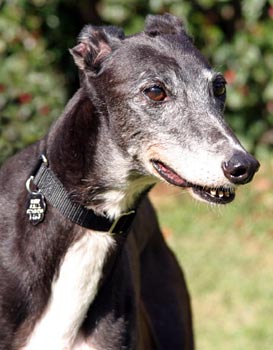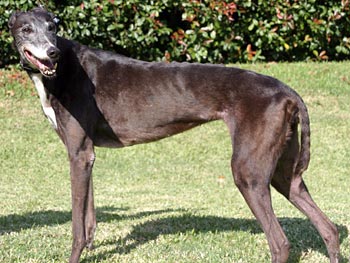 Foxie, aka Ballyhome Fox, is a 12-year-old, Irish-bred, black female born September 7, 1997. Her sire is the Irish-bred Cry Dalcash, and her dam is the Irish-bred One More Go. Foxie has two races to her credit on Greyhound-data.com, both in Ireland. She then went on to be a brood, producing 3 offspring with Briggs Stratton. These are Colones Del Rey, Stringcheese, and CR Tica Lover. Foxie arrived to GALT from a farm closing in Texas. She has been medically processed, with an extensive dental leaving only her four canines. It is not known at this time if Foxie is small animal or cat tolerant.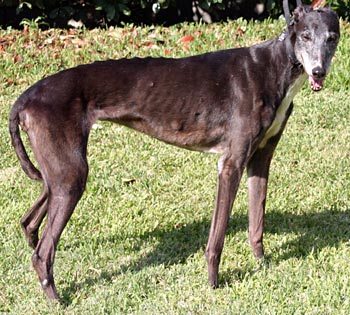 UPDATE 11/25/2009
Foxie woke up this morning and would not put any weight on her right front leg. Dr. Ellis completed an x-ray, and advanced osteosarcoma was seen. Foxie went very peacefully to the Rainbow Bridge where she is running with the wind. Below is a picture of Foxie in her foster home - the past 11 days in her loving foster home were the best of her life - a warm, soft bed and lots to eat! She will be missed by many.