Seniors are the best kept secret in the Greyhound World.
Please consider giving an older greyhound a special place in your heart!

GALT has taken in 7 of the oldest greyhounds from a farm closing in south Texas. Four of these are Irish-born and bred, so they are GALT's O'Greys - ChaCha, Foxie, Patty and Madge. The other three are JoJo, Nice Girl and GoGo. Each has completed all medical procedures, losing most of their teeth from the severe dental condition. There is nothing like a senior greyhound! Please consider making a place in your heart and home for one of these girls. All they need is a soft place to lay and food for their tummies.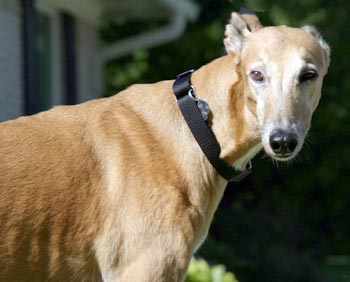 Nice Girl is a 12-year-old red female born July 29, 1997. Her sire was Greys Statesman, and her dam was Greys Mardigras. Nice Girl was quite the contender, completing 115 races starting April 17, 1999, at Southland Greyhound Park in West Memphis, Arkansas, and finishing there April 16, 2001.
She was then a brood mom to two litters. The first was with the late famous Gable Dodge, producing 8 registered pups born May 18, 2003. The second was with Fry That Spam producing 4 registered pups born on July 28, 2004.
Nice Girl, along with Jojo, came into GALT's family because of a Texas farm closing. Her medical procedures have been completed, and after an extensive dental has only 4 canines remaining. She suffers from lumbosacral stenosis and is receiving medication which will be for the rest of her life. Nice Girl is small dog and cat tolerant.

When Nice Girl was brought to GALT, I had only planned to help bathe her, to wrap her in a warm towel, and then to wish her well at her foster home. But when we learned that her proposed foster home had steps that Nice Girl was unable to maneuver, we didn't need convincing to bring her home ourselves. Our hearts went out to this skinny senior girl with appalling teeth, a gait that was part stagger, and a huge spirit.

Since being with us, Nice Girl has had surgery to remove most of her teeth. Without all that yucky bacteria in her mouth her breath is sweet as a puppy's, her gums are healthy, and food tastes good to her again. Thanks to the wonderful vets who work with GALT she is pain free, and her outlook and energy level have changed for the better. She's alert and keeps track of what's going on in the house. She fits right into our group, jumping to her feet with her foster siblings when someone comes to the door. As far as house-training goes, she has fewer accidents the stronger and more settled she gets.

From what we can tell, she hasn't had nearly the attention such a loving girl deserves. But we're doing what we can to make up for lost time, and she's reveling in the petting, the hugs, and the love. You can easily get lost in those big, brown eyes. Nice Girl loves her people, and follows us around the house and into the back yard. She's grateful for soft beds, regular meals, and peanut butter stuffed Kongs.

She gets excited for walkies and has even added a second, relatively speedier gear to her repertoire. Yes, it's a long way from her racing form, but she wills herself along with determination, increasing grace, and surprising speed. She can even manage a few low stair-steps now.

Her mind is sound, her body is strengthening, and she's acting younger every day. Most recently, she's discovered toys! This gentle, beautiful lady is just happy to be near her people; to be petted; to feel like part of a family. Someone out there is waiting for her – waiting for a chance to pamper this darling little girl who deserves a caring home. Is it you?

Nice Girl's foster parents