Seniors are the best kept secret in the Greyhound World.
Please consider giving an older greyhound a special place in your heart!

GALT has taken in 7 of the oldest greyhounds from a farm closing in south Texas. Four of these are Irish-born and bred, so they are GALT's O'Greys - ChaCha, Foxie, Patty and Madge. The other three are JoJo, Nice Girl and GoGo. Each has completed all medical procedures, losing most of their teeth from the severe dental condition. There is nothing like a senior greyhound! Please consider making a place in your heart and home for one of these girls. All they need is a soft place to lay and food for their tummies.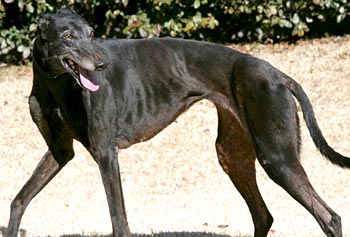 GoGo, aka Give and Go, is a beautiful, 12-year-old black female born December 3, 1998. Her sire is Tail Spinin, and her dam is Manzanita. GoGo has 109 races to her credit on Greyhound-data.com, all at Gulf Greyhound Park in LaMarque, TX, from January 5, 2001 to January 17, 2003. She then went on to have two litters, the first by Craigie Whistler on July 26, 2003, where 2 male and 2 female greyhounds were registered with the NGA, and one more litter with Shadow Ofa Doubt on January 6, 2007, producing one registered pup, Digital Express. GoGo was part of a total of 7 greyhounds received when a south Texas farm closed. She joins GALT's O'Greys - ChaCha, Foxie and Patty, and Madge, as well as senior girls JoJo, Nice Girl. You would NEVER believe this girl is 12 years old to see her play! GoGo is not cat tolerant and has not been tested with small animals at this time.
GoGo is aptly named: she is ready and willing to GoGo anywhere you go! She knows that the laundry room door leads to the garage, which leads to the car, which is a magical passageway to fun adventures! And don't for a second think that she acts her age; this girl is happy, bouncy, energetic and always ready for fun. She outlasts all the other dogs in her foster home.

She learned how to use the dog door after watching another greyhound go through it just one time, and loves to check out the yard, but then she'll come right back inside so she won't miss out on any action going on indoors. GoGo has had no accidents in the house, doesn't care to get up on the couches or bed, and prefers to snuggle with other dogs on a dog bed.

She is the first one to greet me at the door when I come home, and the first one to come visit me once the alarm goes off in the morning. GoGo sleeps through the night on a dog bed in my bedroom, and is the perfect little lady.

Her house manners are flawless. She is loving, gentle and sweet and would make an excellent first greyhound to anyone new to the breed, or as an addition to the family looking to add another greyhound to their gang. She gets along well with small dogs and kids, and is just an easy-to-love girl.

GoGo is young at heart, and wants to meet you, snuggle with you and let you bring her joyful personality into your life. Come meet her! She's waiting to meet you!

Gogo's Foster Mom