GALT has taken in 7 of the oldest greyhounds from a farm closing in south Texas. Four of these are Irish-born and bred, so they are GALT's O'Greys - ChaCha, Foxie, Patty and Madge. The other three are JoJo, Nice Girl and GoGo. Each has completed all medical procedures, losing most of their teeth from the severe dental condition. There is nothing like a senior greyhound! Please consider making a place in your heart and home for one of these girls. All they need is a soft place to lay and food for their tummies.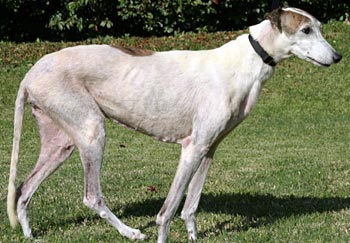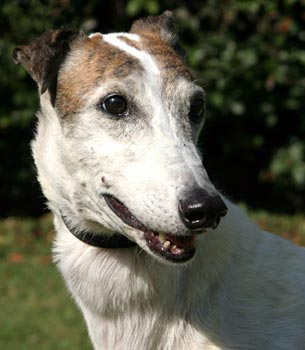 Patty, aka Paddy's Glory, is 12½-year-old, Irish-bred, white and brindle female born February 5, 1997. Her sire is the famous Irish-bred Shanless Slippy, and her dam is Irish-bred Fossabeg Maid. Patty has no races to her credit on Greyhound-data.com. Patty's call was to be a brood, and she has 17 offspring from Flying Train, Greys Statesman, and He's My Man. Patty arrived to GALT from a farm closing in Texas. She has been medically processed, with an extensive dental, loosing more teeth than she kept. Patty has lumbar sacral stenosis, and is receiving daily medication, which will be required for the rest of her life. It is not known at this time if Patty is small animal or cat tolerant.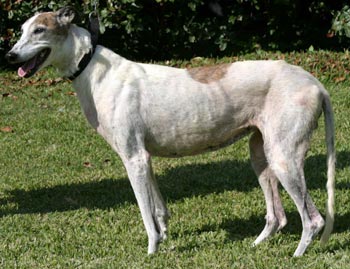 UPDATE 12/7/2009
Patty developed uncontrollable seizure activity late in the afternoon that could not be broken. Patty went to the Rainbow Bridge in the loving arms of her foster mom. For Patty, she was in her forever home. How blessed she was.